A Whale of a Christmas Tail
Margot Hind & Sam Eggins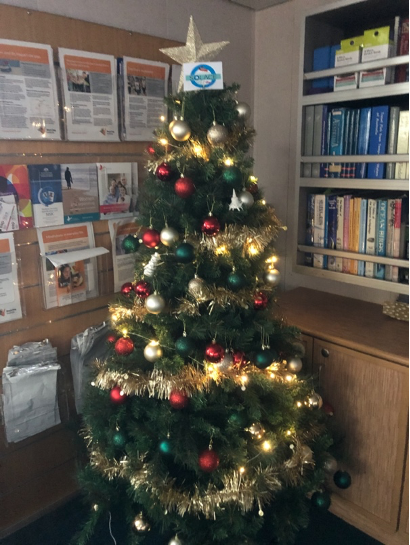 Seasons Greetings! A belated but still relevant – the Christmas tree is still up – blog post all about Christmas on IN2020_V08.
We had wanted to start this blog off in the Christmas spirit with a good icebreaker, but the RV Investigator wasn't designed for that. Decorated to the gills with tinsel and fairy lights the ship was our holiday home for the summer and far adrift from loved-ones its temporary inhabitants would come together for a sweet and memorable end to an otherwise challenging year. Christmas on the SOLACE research voyage turned out to be a real cracker.
This year the global pandemic put a stop to travel, disrupting many pilgrimages north to wintry, more traditionally Christmassy lands. More Australians than ever would be sweating it out in the sun and heat in christmas-pud-induced comas and daydreaming of Santa's riding surfboards. The lucky participants on the SOLACE voyage discovered however that if you travel far enough south, even in the summer, dreams of a white Christmas in the southern hemisphere do come true. As cold winds and the occasional flurry of snow pelted the ship, all good little voyagers awoke to the news that Santa had made the unlikely detour south to drop off some chocolate treats; the first morsels of food in a day of endless culinary delights.
Spirits were high but so are the costs of operating a research vessel, and unlike its land-based counterpart science on the high seas doesn't stop for Christmas. Santa's Southern Ocean workshop was adorned with shimmering lights, and was a hive of activity as zooplankton nets and in-situ particulate pumps were deployed off the stern amidst the icy squalls.
And though the weather outside was frightful, the fire was so delightful. Voyagers sought warmth from the crackling fireplaces (beautifully realised in Full HD) displayed around the ship – with some savvy folk even attempting to roast marshmallows in front of the smoldering embers. Presents were swapped in front of the Christmas tree in a game of Kris Kringle leaving many feeling warm and fuzzy as well as an estranged plastic dinosaur that over the coming days would make its way from shelf to shelf like an elf monitoring us for Covid-safe practices.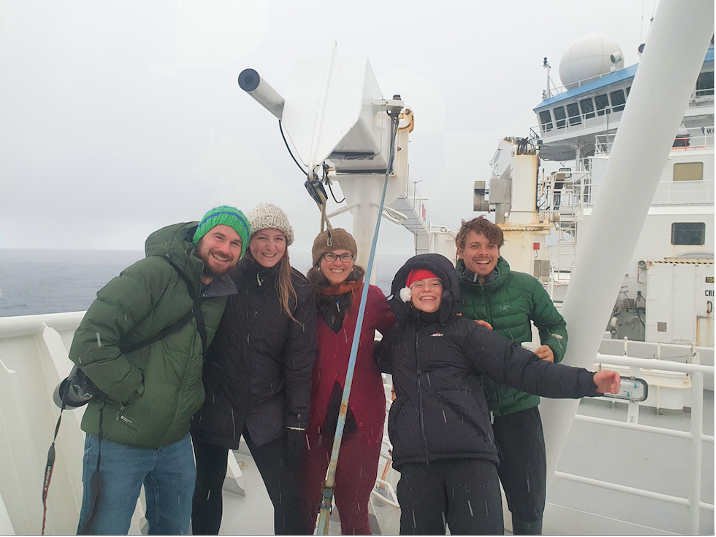 As is typically the case, Christmas is built on a bedrock of food. At lunchtime, after the Christmas crackers were cracked, silly hats donned, jokes shared and eyes subsequently rolled, we lined up (1.5m) to help ourselves to a bain mari(n)e of traditional Christmas fare. Roast turkey, beef, honey baked ham, pumpkin, potatoes and cauliflower cheese were capped with custard and pud. The overeating continued late into the day with a smorgasbord of cold seafood served for dinner. Lobster, Balmain bug, prawns and oysters formed the next layer of the stomach strata, topping off an unreal day of Christmas consumption. If there was anyone back on shore worrying about their loved ones out here at sea, they can rest assured in the knowledge that we have never been fed better. Christmas hats off to the Chefs Keith and Paul, and to Gary and Tracey, our extraordinary stewards who worked tirelessly to make our day so special.
As the day drew to a close for many, the evening workers were treated to a visit from a special guest, with many speculating that it was Santa's little (big) helper coming to deliver a final present for the day. An Antarctic Minke whale which may or may not have been wearing reindeer antlers surfaced close to the starboard side of the ship, delighting those on the aft deck.
That's a wrap on Christmas on board IN2020_V08. As we reflect on the Christmas we had, we realise how special it was to share it with those in the science team and the crew. It felt like there was no other seafaring family so happy to be spending the day together in the far South. Those missing home were able to seek SOLACE in one another and in the views of the incredible ocean around us. Every part of the day was memorable and one that will be fondly talked about for a long time to come. Now to finish this joke-heavy blog post here, before things go to far South.\