The Southern Ocean Large Areal Carbon Export voyage aboard Australia's RV Investigator was successfully completed on Friday, 15 January 2021.
The six week voyage was aimed at developing an approach to quantify the changing effectiveness of CO2 sequestration by the ocean's biological pump using remote-sensing by satellites and autonomous vehicles.
The images & stories below are by the scientists & crew on board.
The SOLACE project includes contributions from CSIRO, the University of Tasmania's Institute for Marine and Antarctic Studies (IMAS), the Australian National University (ANU), Curtin University and the Australian Antarctic Program Partnership (AAPP).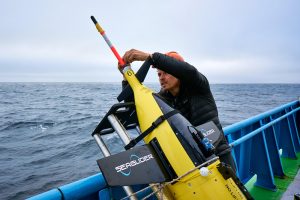 We successfully completed our occupation of the subantarctic SOLACE site late on Sunday 20 December and are currently headed south-west towards a diatom-dominated polar site to commence our southern occupation.