Trail-blazing tractor trains on track for million-year-old ice site
5 January 2023
The first traverse for the Million Year Ice Core project in east Antarctica is well advanced proving a route for ambitious climate research over the coming years.
Ten people in a convoy of five tractor trains and two snow groomers left Casey research station on 23 December 2022, towing a mobile station on sleds on a 1200-kilometre journey to Little Dome C deep in the Antarctic interior.
Lead project scientist Dr Joel Pedro said the team is three-quarters of the way to their planned destination, after climbing more than 90 percent of the vertical distance to the drill site at 3200 metres above sea level on the Antarctic plateau.
"As of 4 January 2023, the convoy had travelled 846 kilometres and was at an altitude of 2,983 metres, with an air temperature of −21°C and wind speed of 17 knots."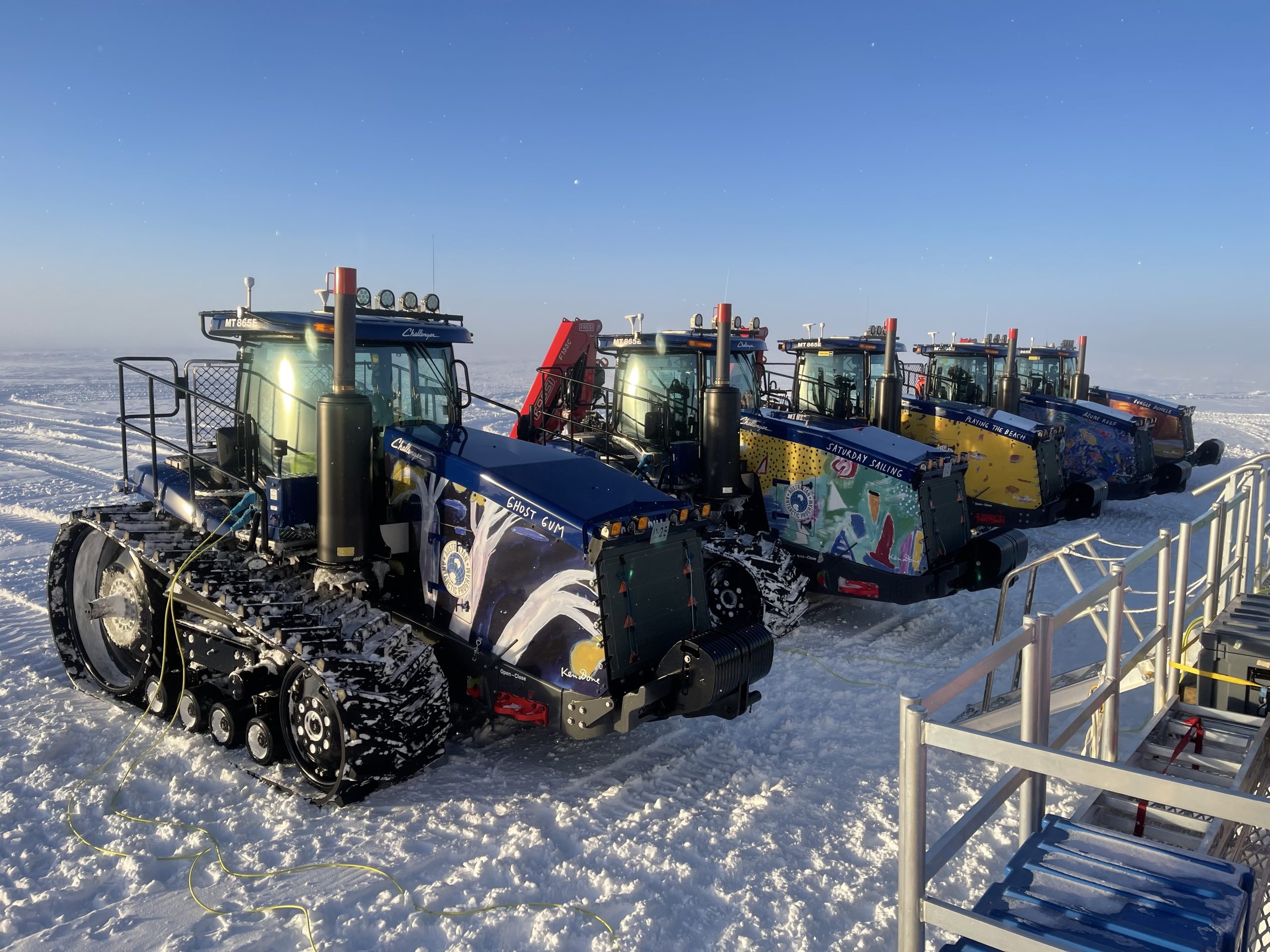 Ice convoy
In her latest report from the field, traverse leader Sharon Labudda said it was "windy all day, started with drifting snow and developed into blowing snow as the wind strength increased."
"By the afternoon, the visibility had reduced significantly, due to the blowing snow. At times it was quite strange to be travelling in blowing snow but when you looked up, you could see blue sky," she wrote.
Glaciologist and ice-core palaeoclimatologist Dr Lenneke Jong is travelling with the traverse team and tweeted "we've been making steady progress the last couple days."
"Some sun dogs and a halo have been spotted too, a result of sunlight refracted by ice particles in the atmosphere," she wrote.
One of the challenges encountered by the convoy are wind-sculpted ice dunes known as sastrugi up to two metres high, which are difficult to traverse in low visibility.
"We're up around above 2900m [above] sea level now, but there is still some wind and sastrugi around," Dr Jong tweeted on 4 January.
Time machine
Led by the Australian Antarctic Division (AAD), the Million Year Ice Core project is a key part of the research program for the Australian Antarctic Program Partnership (AAPP).
"With their 'time machine' of entombed air bubbles, gasses and trace chemicals, ice cores are a powerful tool to determine how the Earth's climate has varied in the past," said Dr Pedro.
"The AAD intends to drill a three-kilometre deep ice core from Little Dome C between now and 2027, which the AAPP will help analyse for a potential climate record extending more than one million years into the past."
"This oldest ice record will enable us to learn what past interglacial conditions reveal as analogues of future warming and the implications for future climate, sea-level and ice-sheet stability."
"In particular, it will help answer why there was a major change in the ice age cycles around a million years ago, with a shift from smaller ice sheets and regular 41,000-year cycles to larger ice sheets with ice ages every 100,000 years," Dr Pedro said.
International effort
Australia is part of a larger international effort, under the umbrella of the International Partnerships in Ice Core Sciences, to recover multiple ice cores extending back at least 1.2 million years.
The Australian MYIC project and a European team (Beyond EPICA Oldest Ice) will each undertake drilling operations near Little Dome C to enable replication and verification of data from the very oldest ice near the bedrock.
The Australian Antarctic Program Partnership is led by the University of Tasmania, with partner agencies CSIRO, Institute for Marine and Antarctic Studies, Bureau of Meteorology, Australian Antarctic Division, Geoscience Australia, Integrated Marine Observing System, and the Tasmanian Government.
Tractor train in low visibility (photo: Sharon Labudda)

Progress map of traverse as at 4 January

Vertical profile of traverse as at 4 January (image: AAD)

Tractor trains and sastrugi (photo: Sharon Labudda)

Halo from ice crystals in the air (photo: Lenneke Jong)

Traverse leader Sharon Labudda with AAD project leader Tim Lyons at Casey (photo: Sean McComish)

Convoy of tractor trains (photo: Lenneke Jong)

Wind-sculpted sastrugi (photo: Lenneke Jong)