The FOCUS voyage on CSIRO research vessel Investigator sailed from Hobart on 15 November 2023.
FOCUS stands for:
Fine-scale Observations of the (Antarctic Circumpolar) Current Under SWOT.
The Antarctic Circumpolar Current (ACC) is the strongest on Earth and acts as a barrier to help keep the icy continent frozen. This voyage to the ACC will investigate powerful eddies that leak more heat into the polar seas.
While the ACC has always leaked heat at these hotspots, the quest is to understand how this process will change as the ocean warms, winds accelerate and shift poleward, and more meltwater freshens the Southern Ocean – and what this means for melting ice and sea level rise.
SWOT is the Surface Water and Ocean Topography satellite, jointly developed and recently launched by NASA and the French space agency Centre National d'Études Spatiales (CNES).
While the ship measures the properties of the ocean inside the current, the satellite will measure the height of the ocean surface in an unprecedented high resolution from space.
The images and stories here are from the scientists and media team on board.
The science team and support staff on this voyage includes 34 participants from the Australian Antarctic Program Partnership (University of Tasmania), CSIRO, Marine National Facility, the Australian National University, Bureau of Meteorology, Woods Hole Oceanographic Institution, Caltech and Monash University Climate Change Communication Research Hub.
This research is supported by a grant of sea time on RV Investigator from the CSIRO Marine National Facility which is supported by the Australian Government's National Collaborative Research Infrastructure Strategy (NCRIS).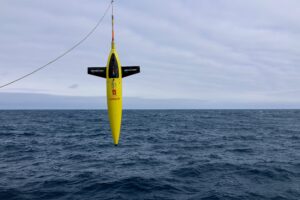 Three underwater gliders are released into the world's strongest water flow, the high-energy Antarctic Circumpolar Current